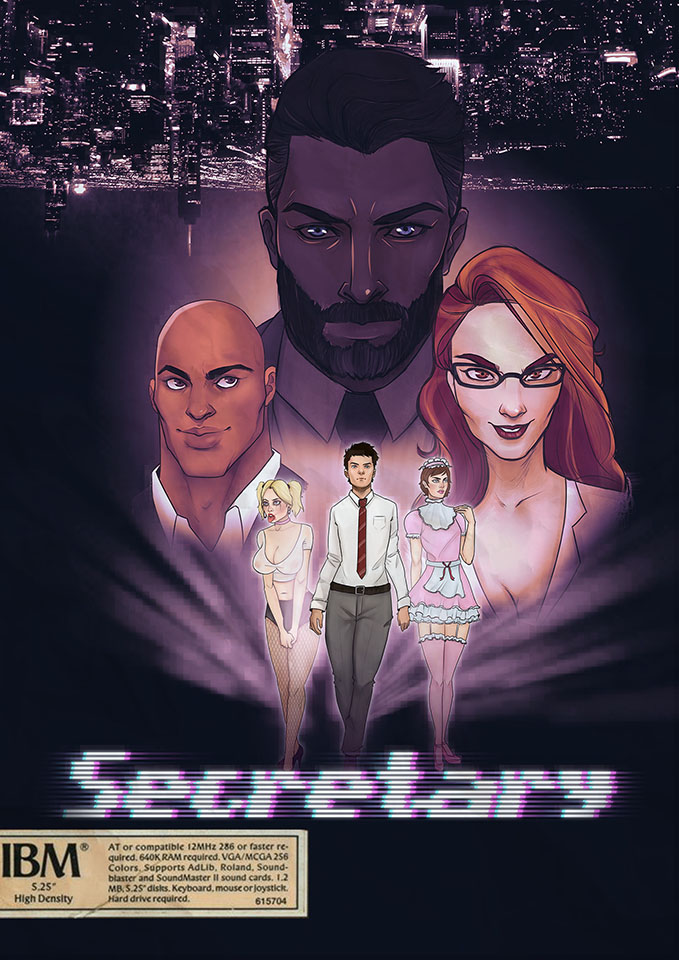 [Secretary] is an erotic adventure/life simulation game, where the character starts as an grown up, nearly 30 year old white collar worker in a well paid but dead end IT Job, when a few wrong decisions made his life fall apart, which lead him at the mercy of his new manager, whose personal opinion on how to motivate subordinates might differ from your typical work relationship.
Some fetishes I plan to add are:
Some fetishes are allways within the game, as parts of the storyline depend on it (like BDSM and Feminizations), others depend on decisions the player takes within the game.
Gameplay information:
When you change to a newer version, use the Export Button under the avatar at your last stable savegame (please check if you're allready beyond the last content, which is currently sunday evening, first week). Then download the new version, start it and press restart (so allnew varaibles get set) and paste the content of the export file into the dialog and press okay.
If you're stuck check if someone wants you to remove or put on some clothes, and use the inventory menu to do this.
Last Changes:
Version 0.2.5 (05.03.2018)
Bug that prevented progress during a certain "Reward" scene containing the Manager if the player choose to remove clothes manually has been fixed.
Version 0.2.4 (01.03.2018)
Forgetting your Chastity Cage should now behave as intended... hopefully.
Calling Alex on a Saturday after 3 pm should work as well
Version 0.2.3 (28.02.2018)
You can now visit the Psychiatrist for therapy even if you never accept the hypnosis sessions for real this time.
Bug that prevents you from wearing male clothing fixed.
Version 0.2.2 (27.02.2018)
Chastity Cage can now be cleaned with the other sextoys.
Talking about nothing twice with the manager works now and can lead to unexpected results
You can now visit the Psychiatrist for therapy even if you never accept the hypnosis sessions
Version 0.2.1 (26.02.2018 ~ that went way to fast again)
Minor Bugfix for a faulty theme at the psychiatrist. You have to export, restart and reimport to fix this.
Version 0.2.0 (25.02.2018 ~ that took way to long :D. Version 0.2.0 is NOT compatible with any previous version)
Apply Makeup (After a certain event in the Storyline)
Different Haircuts
Body Modification (Only Breast growth at the moment. Decline the Manager on the 2nd day at first, before the first Disciplinary measure to get it).
Expanded storyline, more Hypnosis, etc.
Known Issues:
No Content will stop after the 2nd to 3rd week. You can technically continue to play, but not much will change. Like at all. Just like real life.
If the download needs a password it is allways the gamename, written in lower case.
Version 0.1.7 (07.10.2017)
Fixed the Masturbation Scene and added a tiny bit of new content.
Fixed the deadlock during the Disciplinary measure with the Manager
Added a few more items to wear, buyable at the "Tease me, Please me"
Version 0.1.6a (05.10.2017)
Zoom should now work under Firefox
Hints are readded
Version 0.1.6 (05.10.2017)
Added Zoom (or rather scale, since the game is already big enough)
Removed Scrollboxes from room
Firefox export bug fixed
Version 0.1.5a (05.10.2017 + a couple of seconds)
Removed the Import Button from the game. You can only access it if you restart the game now.
Version 0.1.5 (05.10.2017)
Added Options
Font is now changeable (via options)
Added Tutorial Mode (via options)
Small Bugfix drung the Manager Task Event in the Morning
Version 0.1.4 (04.10.2017)
Removed the need to wear the tie from the evening event of your first Workday, since it seemed to cause some issues.
Removed the Cutscene Bug which prevented Cloth to be changed after the event from the first date with Alex.
Changed the way the first recurring Task from the Manager works after the first time. Now you can decide to comply with her demands or do things your own way. Again.
Office of the Manager is now a thing. Not much, but at least it does not bug out anymore.
Fixed Bug which made 2nd Bob date impossible.
2nd VR Session is now the cliffhanger for s01e01.
Version 0.1.3 (03.10.2017)
First Coffee date can now be completed no matter what you wear.
First Task from Manager should now be more dynamic and can be completed in some different ways (which all need you to change your clothes)
Added get Naked Option in inventory to quickly remove all clothes at all.
Added Cloth Sets. Only Clothes are stored. Other items like Plugs and Chastity Cages will be ignored.